Providing Professional Security Guard Services throughout the USA for 50+ Years!
Providing Professional Security Guard Services throughout the USA for over 48 Years!
Custom Security Personnel Solutions for Every Industry
Are you considering hiring a contracted security resource for the first time for your business? Perhaps considering a switch from an in-house program to a reputable contractor? Or maybe simply seeking a better value for your existing contracted security investment? You've found a great match with STT. Learn how STT personnel can benefit your business.
Portable Security Guard Shack Rental – Security Gatehouse Rental – Michigan Construction Project Security
Does your Michigan construction project have a Security Gatehouse or Guard Shack rental need? Look no further, STT Security Services has portable security gate house solutions for rent throughout Michigan! Whether you have 400 contractors a day coming and going to track, or just need shelter for the overnight guard looking over critical materials, our solutions make portable gatehouses easy and affordable. Our custom-built security shack rentals can be delivered anywhere and include electric heat and cooling standard. These security gatehouse rentals are perfect for construction project security where a point of access needs to be controlled and security staff need a temporary security shelter. Or, a simple temporary shelter for the overnight security guard to cool off or get warm between rounds on your next big project. Our gatehouse rentals can also be paired with surveillance camera systems to record activity and offer evidence of access, accidents, and even live monitoring when a security guard isn't available.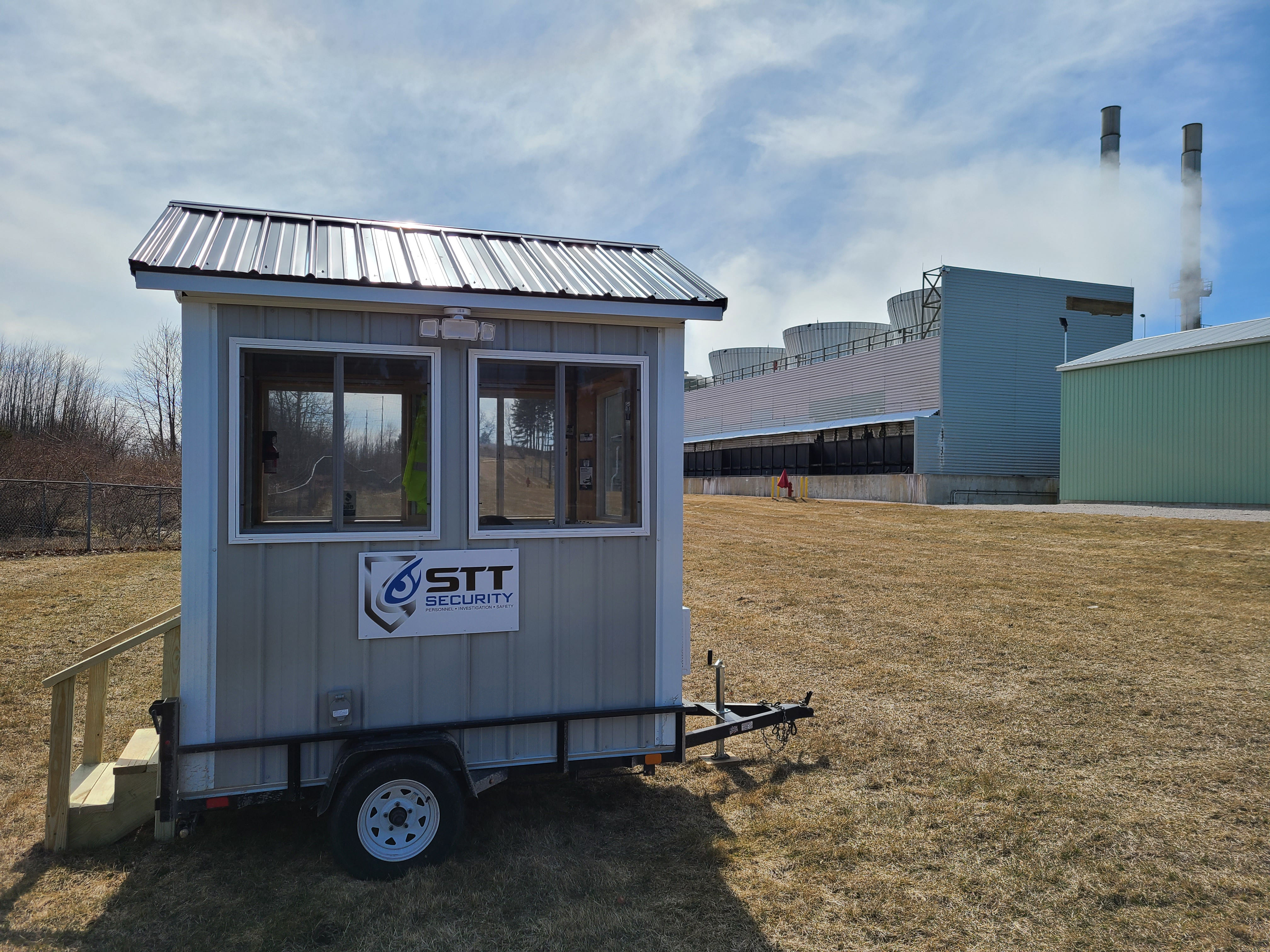 Want to learn more, or do you have a Guard House Inquiry? Click here to contact us!
Need Security Guard Services for your project? STT Security can be a single provider for both a temporary guard shack and security guards. We have decades of experience in construction project security and have been part of securing over one billion dollars of construction investments since 2010. Our project security experience includes:
Windfarm Security
Corporate Office Building Security
Major Construction Project Security
Plant Outage Security
Maintenance Shutdown Security
Construction Security Guards Services offer:
Control of access to project at a point of entry
Tracking and records contractors and visitors in and out with STT's cloud-based Mobile Reporting Technologies
Supporting project Safety protocols (PPE compliance, safety training, etc.)
Coordinate deliveries and visitors
Maintain muster lists and personnel rosters
Conducting patrols and rounds ensuring critical project assets are secure