STT Security Officer Scott Mccauslin is a real-life Santa Claus 🎅 Check out our interview with him below:
---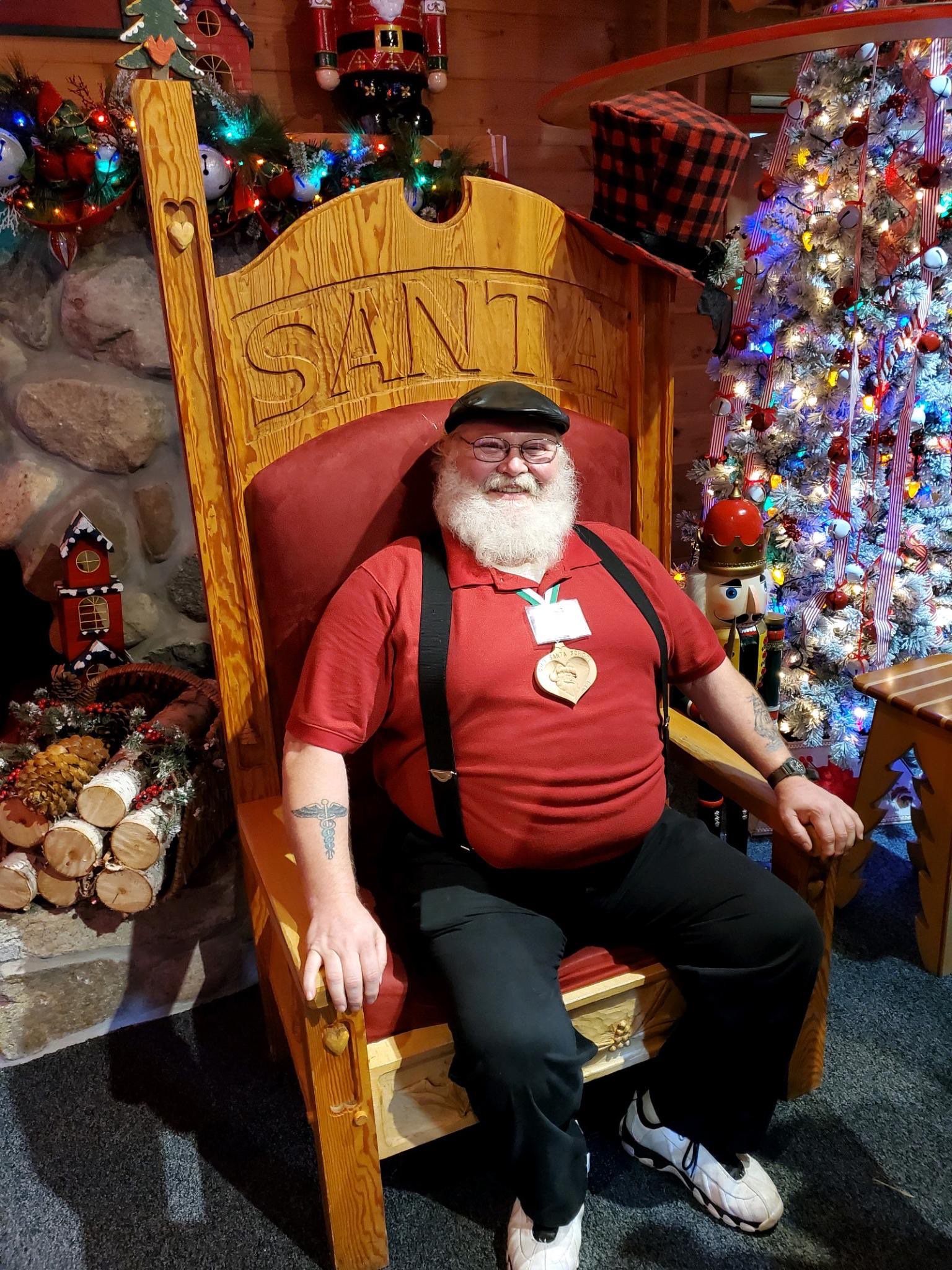 How long have you been a Santa?
I've been Santa for 12 years now, but I've spent the last 10 doing it professionally.
What does Santa's schedule look like this year? How do you fund the magic?
It all depends on the year. Most of my business is through word of mouth, so I hand out business cards and get offers from those. I don't rely on it for my livelihood though – you would have to make a yearly salary in about two months! For that reason, Santa's usually charge $100 – $175/hour. I don't, however – I only charge as much as I need to pay for my suit and the gifts that I give away for free.
I also fill my schedule with youth groups, church groups, and charitable events all for free. I've had people insist on paying me, but I always say, "if you want, you can do something on your own, but I won't give you a price."
My wife (a professional Mrs. Claus!) and I do hospital visits on Christmas Eve. Those children – not only are they not feeling well for whatever reason they're in the hospital – but they are worried that not being home means Santa isn't coming! We think it's very important to go visit them.
What is the process like to become a Santa?
There are numerous schools throughout the country and the world, but the Charles W. Howard Santa Claus School in Midland, MI is the oldest and most well-known. It was started before World War 2 by the Howard family in upstate New York. It was designed to give those who portray St. Nicholas a better understanding of the history and customs of the holiday. This provides consistency for Santa's across the board.
Hearing the stories that prompted the Howards to start the school made me think of Bad Santa.
I also attended some groups that do mentoring and weekend workshops. The International Brotherhood of Real Bearded Santa's (IBRBS) is very accepting and willing to share knowledge, tips, and help. They are also very receptive to newcomers because it is a greying organization. Unfortunately, every year I receive a list of the Santa's who have passed away.
Amongst all the groups, though, Charles W. Howard school is the gold standard. When I was hired with STT, I was asked "where do you see yourself in the next five years?" I responded by saying I will be attending the CW Howard School for Santa Claus. The interviewer was surprised for sure by that answer! I was even more excited when MiOPS gifted a full scholarship for my wife and me to attend the school!
Do you have a favorite story/experience from being Santa?
There are so many of them, it's hard to count. I will share one that sticks out.
A couple years ago, there was a young boy who was admitted to the hospital on Christmas Eve. He was crying and wouldn't calm down because he needed to have emergency surgery. I walked into his room, and he calmed down immediately. His eyes lit up, and I told him, "You have to understand, I know where you are – you just need to concentrate on what the doctors are telling you so that you can feel better. And when you get back home, you are going to get exactly the Christmas you want – all your presents will be there!"
The kid's father followed me out of the room; he didn't know Santa was going to be there. When I turned around to talk to him, he was crying and asked, "who do you work for?" I informed him that my wife and I do this on our own, we don't work for any organization. I think this really shows that you don't need something fancy or expensive to spread the holiday spirit. And as for the kids: giving them attention and just listening to them for a change will make their day. You should see the look in their eyes and their reactions – it is priceless. Society forces children to grow up too fast, and this is the one time of the year that we can allow them to let free and just be kids. That's why I do this!
What is your favorite part about being Santa?
The peace it brings me. Being Santa, being with the kids, seeing parents and children alike be mystified – it brings me peace. The joy it brings to the kids is why I keep doing this. The peace of mind is just icing on the cake but knowing that I'm making a difference to these kids is what drives me. I'm a retired marine, I worked in the medical examiner's office for 12 years, assisted in numerous autopsies, I was an EMT… I've seen some of the worst that the world has to offer.
But when you participate in something like being Santa, that innocence and wonder comes back to you. You have to share it. If the magic of Christmas touches your heart, you have to share that with others.
---
Looking to book Santa Claus? Scott's card is below: