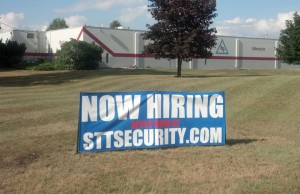 Are you interested in joining our team as a Security Officer or Parking Attendant in the Mid-Michigan Area? No need for previous security experience – we have open positions for both Security and Parking personnel!
Come meet us at the Mid-Michigan Job Fair on Wednesday August 8th, from Noon – 3PM. You will have an opportunity to meet with STT representatives, ask questions, complete an application, and even schedule an interview! There is no cost to attend.
These entry level part-time positions are an excellent opportunity to get your foot in the door with our organization! For more information on our these open positions or to apply directly click here.
Location: Morey Courts – 5175 E. Remus Rd. in Mt Pleasant, Michigan 48858